The most popular and traditional tarot is the Marseille Tarot. The Marseille tarot cards are medieval representations, characterized by the Roman numerals of the cards and their name in French at the bottom of the card.
Make a free tarot spread for Marseille and discover what the future holds for you, answer all your questions and answer your questions.
Free tarot reading Marseille
Just click on the button to select your cards, choose 3 cards from all the Major Arcana and reveal the reading that each card has in store for you. Don't forget to focus on the question you want to know before you make the card flip, otherwise the prediction can be a bit confusing.
Please select three cards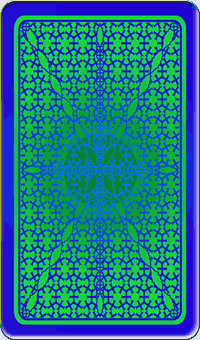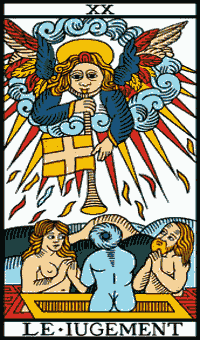 ◁ Judgement ▷
The Judgment card advises that you allow yourself to grow, transform, and release hidden potentials within yourself. Divest yourself of fruitless endeavors without neglecting your duties. At the same time, invest your energies in new growth.
It's not necessary to reject others, but refuse to be manipulated by those who cry foul. This process isn't about them anyway. It is about you and the desire you feel to change your life and become a more complete person. Trust your impulses and allow this remarkable awakening to happen.
◁ Judgement – Reversed Position ▷
The Judgment card reversed suggests that you feel like you are bumping into externally imposed restrictions, even if you thought you had let go of limitations. If that's the case, you need to accommodate those inexplicable blockages wherever they appear, without allowing the growth force rising within you to diminish.
Like water, you will find the openings and seep through, to move past whatever has been holding you back. Keep flowing and you will succeed.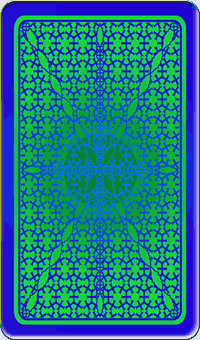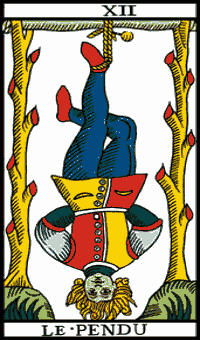 ◁ The Hanged Man ▷
The Hanged Man advises you to surrender illusions of control. Accept that you have been overcome and deceived by your own devices. Having made your bed, you now need to lie in it. This is not a negative judgment. It's just that sometimes there are consequences for being in the wrong place at the wrong time. Bad things can happen to good people. These consequences are not fatal, even if they are inconvenient — or perhaps even embarrassing.
Stop resisting your circumstances and let some time go by. Eventually, you will be released a little wiser and not much the worse for wear. You will come to realize in time how you collaborated with the problem. However, the issues you were stuck on when you were first hung up have subsided and no longer concern you. You are free to take up new endeavors. You will ultimately feel refreshed and grateful that you were derailed from your former track.
◁ The Hanged Man – Reversed Position ▷
The Hanged Man reversed suggests that the seemingly noble deed of offering yourself as the sacrificial lamb is, at least for the time being, a useless gesture. There will be no benefit to the greater good; you will experience no expansion of consciousness.
It would be an empty move, so don't put yourself in that position. Ask yourself on what basis you allowed yourself to hope that your sacrifice would make a difference in this situation. Who knows? Perhaps this is meant to be an opportunity to learn something about self-denying tendencies.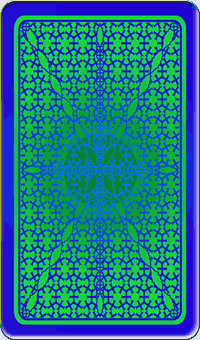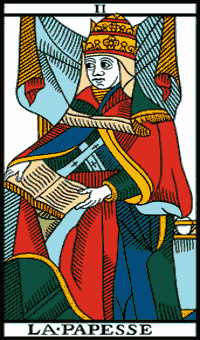 ◁ The High Priestess ▷
The High Priestess advises you to adhere to your chosen spiritual practice on a more regular basis. If you want the benefits of evolution, you'll have to cooperate with spirit. We all have distractions, demands — a whole life full of reasons why we cannot find the time to retreat into our inner sanctum.
Until you consider this as vital to your well-being as the need to eat and sleep, you are likely to be eternally restless and deeply dissatisfied. A spiritual routine that suits your temperament, practiced every day, is the most trustworthy path to freedom.
◁ The High Priestess – Reversed Position ▷
The High Priestess card reversed suggests that when you have problems, it's usually because you are so attracted to your inner life that it has become an addiction in itself. It blots out your interest in ordinary reality, friends, and family — the connections that hold us fast to our worldly identities.
Don't take this card as permission to abandon the world. This is a reminder to balance your outer identifications with internal cultivation, so you can more effectively bring the spiritual world to the material world.
Predicting the future with the Marseille Tarot
Surely you have an interest in the arts of card reading and tarot reading, you can get your card readings online and discover our interpretations of the 22 cards of the Major Arcana. The 22 cards of the Major Arcana of the Marseille Tarot each represent an aspect of human experience. These letters focus on three different themes: the material world, intuition, and change.
The different events, emotions and experiences that we live are reflected in the letters chosen by the consultant. Here's a great way to start each day with a free reading of the Marseille Tarot cards.